Ethernet Alliance at ECOC 2022 – Demonstrating Ethernet's Flexibility, Adaptability, and Interoperability
---

It has been three interesting years since the last European Conference on Optical Communication (ECOC) event when the Ethernet Alliance interoperability demonstration was a central feature of the exhibition. This year in Basel, Switzerland, the Ethernet Alliance returned to the event with its renowned interoperability demonstration focusing on the new world of 800G Ethernet.
The challenges surrounding the successful deployment of 100GbE/lane products have galvanized the industry, especially advancing the requirements on the test and measurement sector to adapt supporting verification and validation platforms and methodologies.
The ECOC show attendance, although estimated at ~60% of prior years, featured highly engaged conversations and live demonstrations of new products and services enabling high-speed Ethernet deployments. The Ethernet Alliance booth hosted several key components of this emerging ecosystem.
A Juniper Networks switch anchored the demonstration with supporting interconnect products from Amphenol, TE Connectivity, Juniper, and Intel. Intel also showcased its FPGA development platforms, and test and measurement products from EXFO, Tektronix, and Teledyne LeCroy presented state of the art tools and methods supporting the 800GbE marketplace.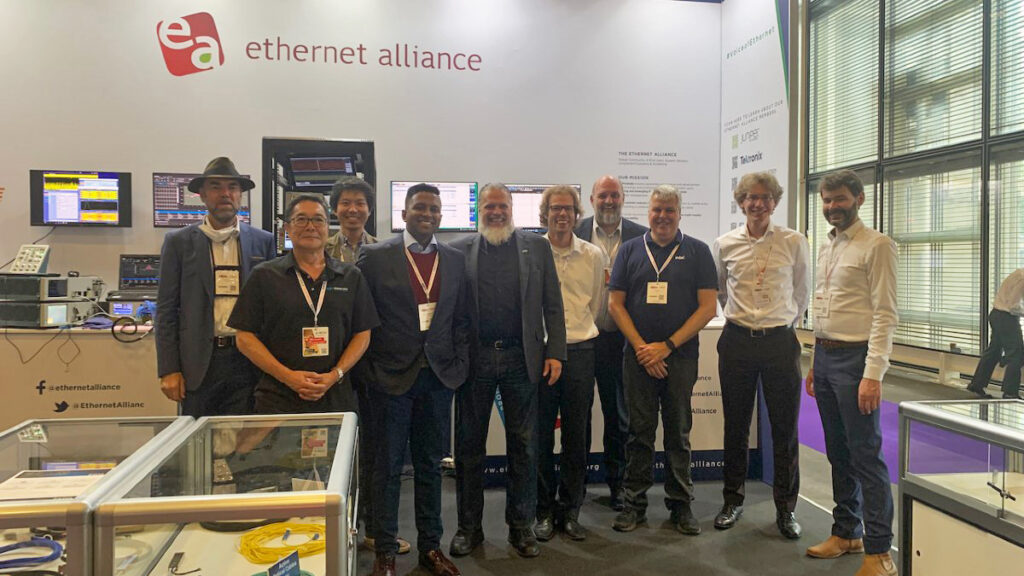 Photo: Ethernet Alliance member companies participating in 2022 ECOC Interoperability Demonstration: Amphenol Corporation, EXFO, Intel Corporation, Juniper Networks, TE Connectivity Ltd., Tektronix, Inc., Teledyne LeCroy, Inc.
The Importance of Interoperability
The ECOC show was a logical extension of the Ethernet Alliance's earlier 2022 Optical Fibre Conference (OFC) interoperability demonstration, furthering the dedication of the Ethernet community's commitment to highlighting the importance of interoperability and showcasing the latest innovative technologies from member organizations.
Next, the Ethernet Alliance will be exhibiting in the Open Standards Pavilion at SuperComputing 2022 (SC22) November 13-18 in Dallas, TX. Planning and preparations are also already underway for OFC 2023, to be held March 5-9 in San Diego, CA.
It has been a challenging time for the entire Ethernet industry but the return to pre-Covid tradeshow participation and attendance is making a steady recovery. The commitment made by show exhibitors and attendees proves there is no virtual replacement for in-person demonstrations and conversations.
I am pleased to confirm the Ethernet Alliance will continue to support the industry and member organizations by hosting all-encompassing interoperability demonstrations showcasing best-in-class products, services, and solutions enabling global market adoption and advancement of the latest Ethernet technologies.
David J. Rodgers
Ethernet Alliance Events Chair – Board Member