New Applications Driving Higher Bandwidths – Part 3
---

TEF21 Panel Q&A – Part 3
Nathan Tracy, Ethernet Alliance Board Member and TE Connectivity
Brad Booth, Microsoft
Tad Hofmeister, Google
Rob Stone, Facebook
Addressing Emerging Network Challenges
According to Cisco's Annual Internet Report (2018-2023), the number of devices and connections are growing faster than the world's population. Compounded by
the meteoric rise of higher resolution video – expected to hit 66 percent by 2023 – along with surging M2M connections, Wi-Fi's ongoing expansion, and increasing mobility among Internet users, the impact to the network is significant.
Day Two of TEF21: The Road Ahead conference focused on today's explosive application space as a driver for higher speeds. In New Applications Driving Higher Bandwidths, moderator and Ethernet Alliance Board Member Nathan Tracy of TE Connectivity, and panelists Brad Booth of Microsoft (Paradigm shift in Network Topologies); Facebook 's Rob Stone (Co-packaged Optics for Datacenters); and Tad Hofmeister of Google (OIF considerations for beyond 400ZR) discussed how their organizations plan to address emerging network challenges wrought by today's mounting bandwidth demands.
At the presentation's conclusion, the audience engaged with panelists on numerous questions about technology developments needed to address escalating speed and bandwidth requirements. Their insightful responses are captured below in part three of a five-part series.
Parallel Approach for CPO and Pluggables
Nathan Tracy: When you look to the future, something after 800, let's call it 1.6 for talking purposes, is that pluggable or is that CPO?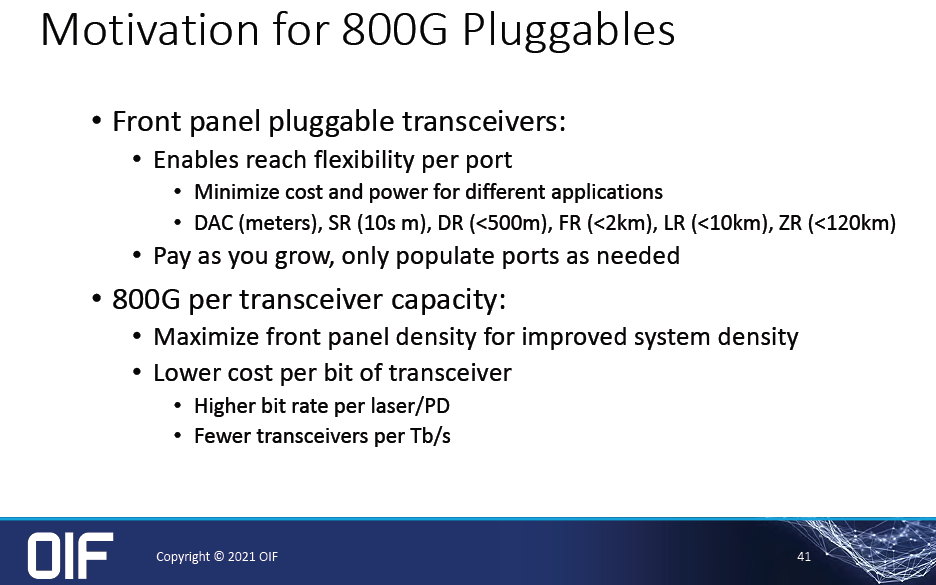 Tad Hofmeister: Yeah. I think the future is too uncertain to bank on one or the other, so I think we'll pursue both. I mean, we're actually pursuing 1.6 terabit pluggables and going to 200 gig lanes. But I think the challenge there is each higher rate with a pluggable, you're limited in your power budget per byte, so I also think the copackaged optics is, there's a massive amount of innovation that's going to be required to make that as reliable and as cost effective as pluggables so I think it's a great idea to start working on those and have those first showing up even coincident with 800 gig. It doesn't mean they'll necessarily be widely adopted or widely adopted by us and so I mean I think, I think it makes sense to pursue both for a 1.6 type density or call it a 50 terabit or 100 terabit switch.
Nathan Tracy: How hard baked is co-packaging in your plans? Are you going there now or is there still a parallel approach in mind?
Brad Booth: There has to be a parallel approach. CPO is not production ready. It's not a healthy ecosystem today. You're seeing some announcements and some preliminary demos. But there's nothing baked and ready to go. This is part of the reason why Microsoft and Facebook got together to have some discussions about where to go and the power of optics and bandwidth capabilities. There was a sudden realization of hey, we need to help the industry to realize that we need to make this transition. As end users, if we don't come out and say, "hey, this is important to us, we know this is going to be critical to us, for this industry to stop assuming we're going to use pluggables ad infinitum because we're already seeing some of the pain points associated with them. Let's work together and figure out how we solve this problem." Rob touched on it beautifully, how the industry is responding.
Rob Stone: I agree with Brad and I would add that our plan is to deploy both front panel pluggables and co-packaged optics in the generation. So it's a crossover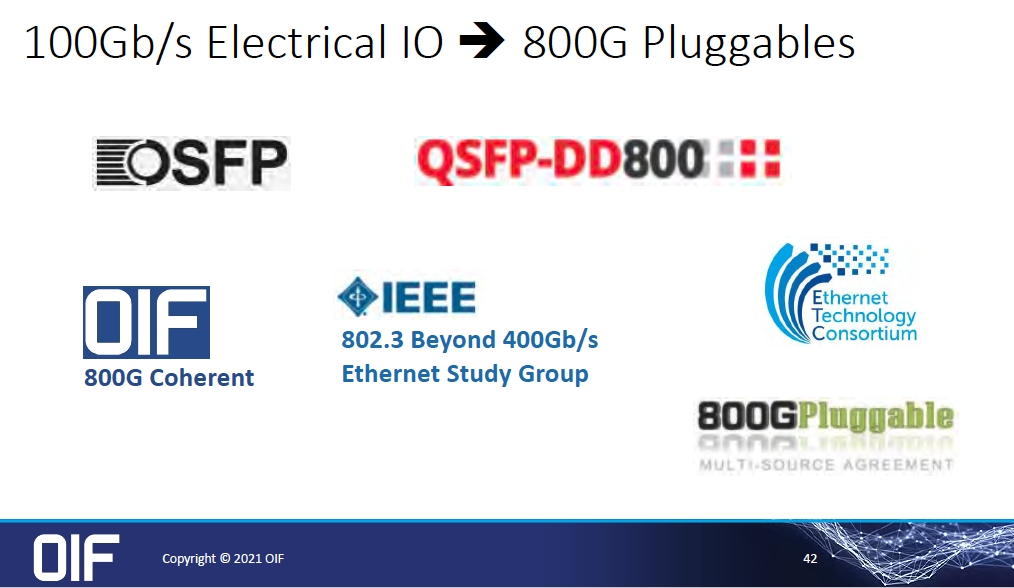 generation for us and the intent there is to recognize that it's early in co-packaged optics life cycle, as Brad mentioned, and there will be some speed bumps necessarily. But we want to force that to happen. We want to force the industry, force the co-packaged optics U.S. system to start. We want to start deploying it. We need to get the operational learnings on it. We need to get our manufacturing folks spun up on it so that when we get to the next generation, the 100 terabit generation which we think is more critical to have a co-packaged optics solution that is robust and multivendor, then we really have to get the training wheels off, so to speak.
To access TEF21: New Applications Driving Higher Bandwidths on demand, and all of the TEF21 on-demand content, visit the Ethernet Alliance website.