Ethernet Standards: Ensuring Interoperability and Driving Innovation
---

Joining the Ethernet Alliance at the recent 2023 European Conference on Optical Communication (ECOC) was one of our newest members and a global leader in high performance optical transceivers, Hyper Photonix.  In this guest blog, its Director of Strategy and Technology, Brad Booth – also an Ethernet Alliance Founder and former Chairman – explains the importance of developing Ethernet standards and their key role in ensuring interoperability.
In the last 20 years, I've worked with my colleagues in the industry to demonstrate the next generation of Ethernet technologies. From the first demonstration of 10 Gigabit Ethernet technology by the 10 Gigabit Ethernet Alliance (10GEA) to the first demonstration of 100 Gigabit Ethernet by the Ethernet Alliance to showcasing 400G and 800G Ethernet at this year's European Conference on Optical Communications (ECOC) in Glasgow, Scotland. At the foundation of all these demonstrations is the desire of members of the Ethernet Alliance to showcase an aspect beyond the latest and greatest in technology; the ability of an industry to develop interoperable specifications and products.
As with any technology advancement, there are challenges. This is why the Ethernet Alliance hosts interoperability test events (aka hot stages and plugfests) to help their members test and evaluate their products amongst one another. Some of the challenges can be as simple as having the product arrive on time for the event, or as complex as different interpretations of the specification. The advantage of hosting these events is that it often permits Ethernet Alliance members to tweak their products, and in some cases, provide feedback to IEEE 802.3 to improve the draft standard.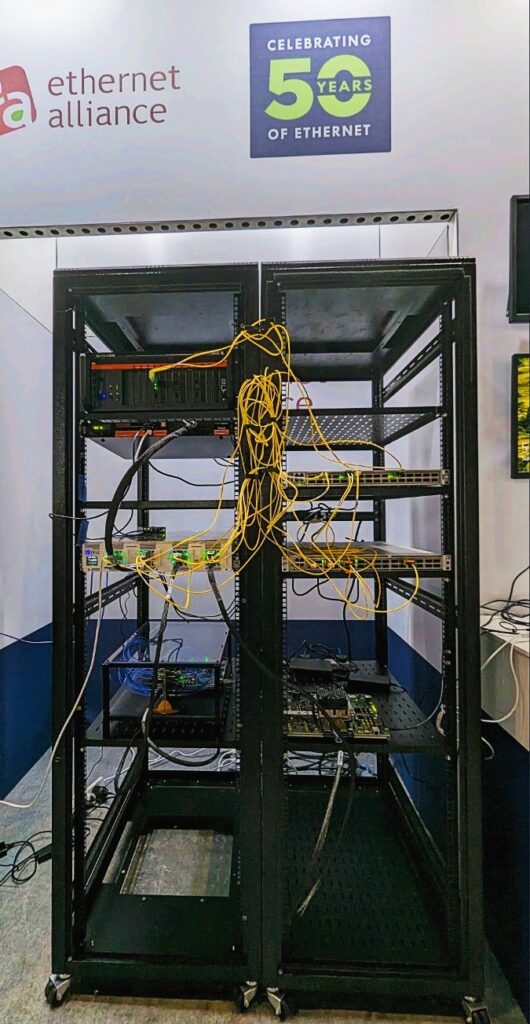 It is these efforts of the Ethernet Alliance that benefit the technology and standards development. Throughout my career, I've heard talk of how long it takes to create an IEEE 802.3 standard. However, the process for iterative work can proceed quite quickly, and there are instances where a project has created a standard in just over a year. New technology does take longer in the standards process. Part of that time is related to the steps required to review, comment on, and refine the draft standard. What many onlookers often miss is that the industry doesn't wait for the standards development process to be completed before creating a product. The standards process and product development occur simultaneously. It is for this reason that interoperability test events are critical; they validate the technology, the product and the draft standard at the same time.
During ECOC 2023, the Ethernet Alliance is continuing its tradition of showcasing interoperable Ethernet technology, some based on published standards and others based on draft standards. I encourage those attending to stop by the Ethernet Alliance booth (#460) and learn more.
To learn more about IEEE 802 Ethernet standards, please visit www.ieee802.org.
The views and opinions expressed are those of the authors and do not necessarily reflect the official policy or position of the Ethernet Alliance.